Martta Wendelin (23 November 1893 – 1 March 1986) was a Finnish artist whose work was widely used to illustrate fairy tales and children's books, postcards, school educational books as well as magazine and book covers. She was well known for her illustrations on magazine covers and for books and also illustrated approximately 650 Christmas cards between the years 1931 – 1963. She created an image of the idyllic Finnish family and almost singlehandedly reshaped the image of the "traditional Finnish" Christmas. The cozy red cottages, birch trees, lakes and rural people, caring mothers and boldly working men were part of the Finnish mindscape that Wendelin created. In addition, Wendelin painted landscapes, portraits and still lifes. Her career peaked in the 1930's, when the printing industry in Finland expanded rapidly. But by the later 1950's, her drawings no longer had their former extent as magazines began to use photographs for illustrations rather than paintings.
Martta was born in the Kotka area and she later recalled her early childhood as the happiest period of her life. The family later moved to the center of Kotka where she graduated from high school in 1910 at the age of 16. The family moved to Helsinki where Wendelin then studied at the University of Helsinki, under the instruction of well-known Finnish artist Eero Järnefelt, up until 1916. During the period 1916-1919 Martta Wendelin lost four out of five siblings and her father, after which she took her mother to live with her. Wendelin took care of her mother until she died. She also received private instruction from Akseli Gallen-Kallela and made ​​study trips to Sweden and Italy. Her career as an illustrator began in Porvoo in January 1919 where she began work as an illustrator for the monthly WSOY. In 1925, she returned to Helsinki and inspired by the works of Akseli Gallen-Kallela, she continued painting and participated in art exhibitions. From 1924 she worked as an illustrator for several publishing companies and also regularly painted illustrations for Kotiliesi, a popular magazine. It would be her work for Kotiliesi that would make her familiar to every Finn.
Through the 1930's and 1940's, almost every Kotiliesi cover was illustrated by Wendelin and the images shown focused on home, family, the Finnish nature and countryside and the importance of seasonal fluctuations. As well, her postcards followed the same theme: glorification of images of a mother and a starry-eyed children doing theur household chores, romantic images of young couples in a summer landscape, or the men working on log rafts or forestry work. These pictures sank deeply into the minds and memories of people at a time when there was little other visual material.
The Finnish landscape and the city that Martta Wendelin portrayed were in the tradition of realistic painting. She was skilled and sensitive painter of both watercolors and oil paintings. As an artist she was able to pursue trips during the summer months, visiting Italy in 1927, Hogland in the in the early 1930s and Valaamo, Karelia and Petsamo in the mid-1930s. From 1910 into the 1920's, Wendelin's illustration style followed a decorative theme around the lives of city dwellers. In the early 1930's her themes changed to the countryside and the glorification of artisans values. Wendelin extensively illustrated children's and young people's books, children's magazines, and entertainment novels. In particular, Wendelin illustrated schoolbooks and reading books for several generations of children. Mary Marckin and Anni Swanin's popular book covers for young people were born in the 1920-50's, depicting the real lives of young school children.
In the autumn of 1938 Martta Wendelin move to Tuusula, where she would live more than half her life – first in a rented villa and then in her own house. Wendelin built a house in Tuusula, which she moved into in 1946 and where she lived and worked for the rest of her life into a serene old age. Wendelin never married but did adopt a 13 year old daughter when she was 50 years old. In 1950, Wendelin returned to painting, becoming well known for her portraits of children. She died in 1986 at the age of 93 years, the grand old lady of Finnish Art. There is now a Martta Wendelin exhibition located in Tuusula at the Hyrylän Art and Culture Centre. The museum has a permanent collection of 2,000 of Wendelin's works that she donated in 1977 to the Tuusula municipality, as well as space for temporary exhibitions. In the 1980's, her work was "rediscovered" and became popular again
Following is a selection of Martta Wendelin's art that I personally like – there's far more than can be included comfortably in one short post. A search on the Internet will reveal many many more. Unfortunately, Martta Wendelin's audience within her lifetime was restricted largely to Finland and she's little known outside the country. While there are one or two books on her, these area in Finnish and thus not easily available to an English-language audience. If you are visiting Finland and interested in her art, a visit to the Martta Wendelin exhibition at Tuusula is recommended.
The Art of Martta Wendelin – a small selection
Martha Wendelin (1893-1986) described ordinary life in its many forms. The Gold Series cards included a short verse from the epic Finnish poem, the Kalevala, or Kanteletar. These Kalavalakorteilla collected money for "homeless women recovering from tuberculosis." The series was published in 1932 and was reprinted in 1934, 1943 and 1944.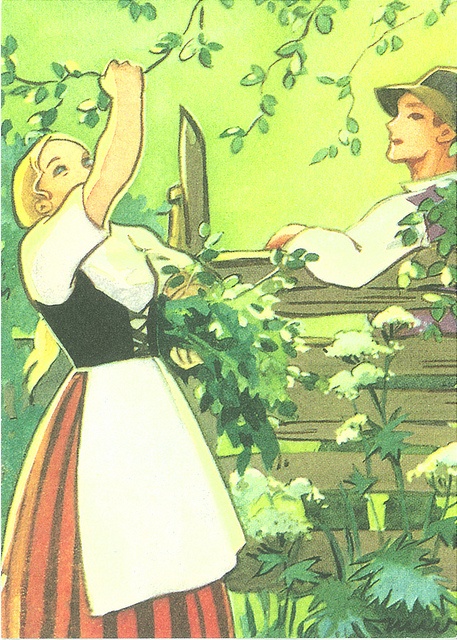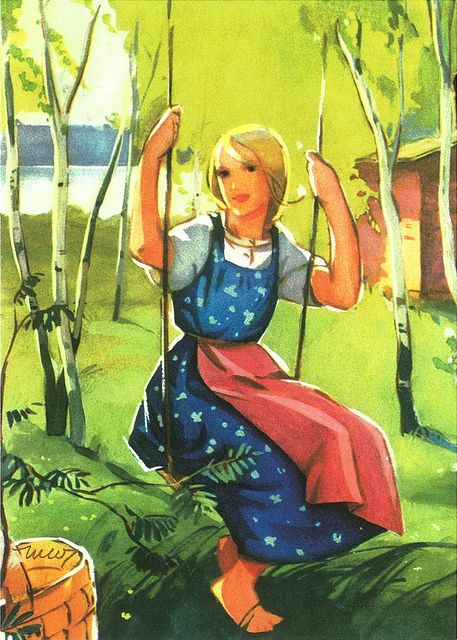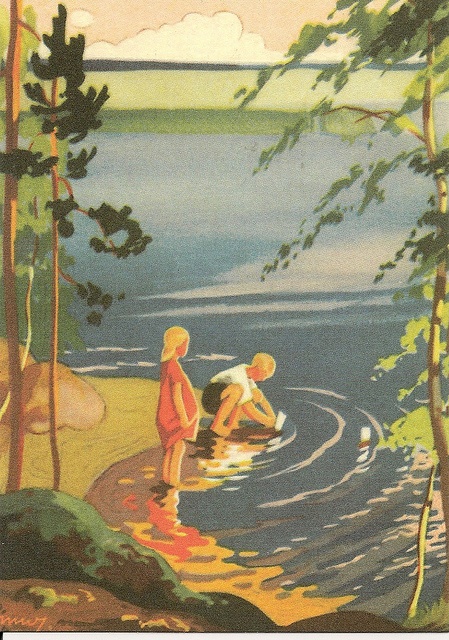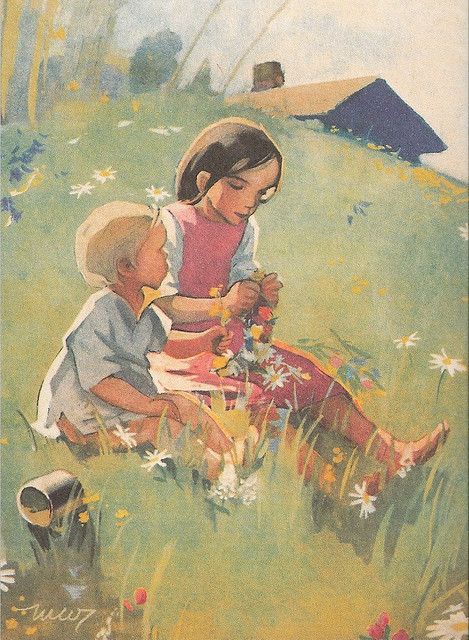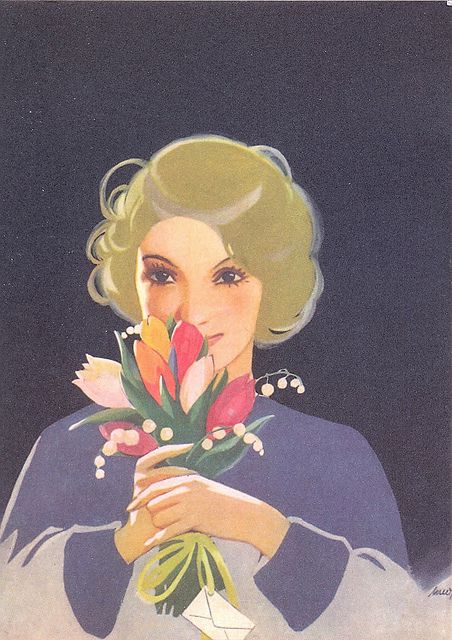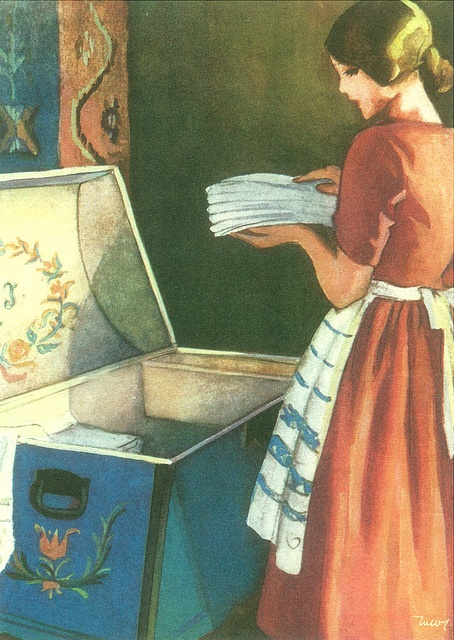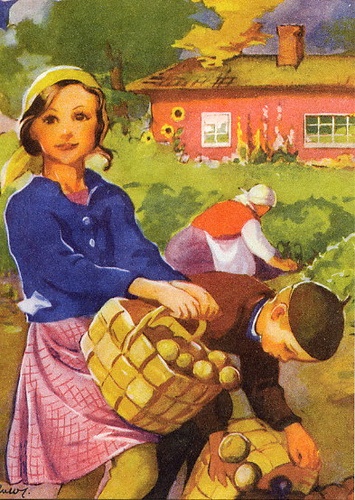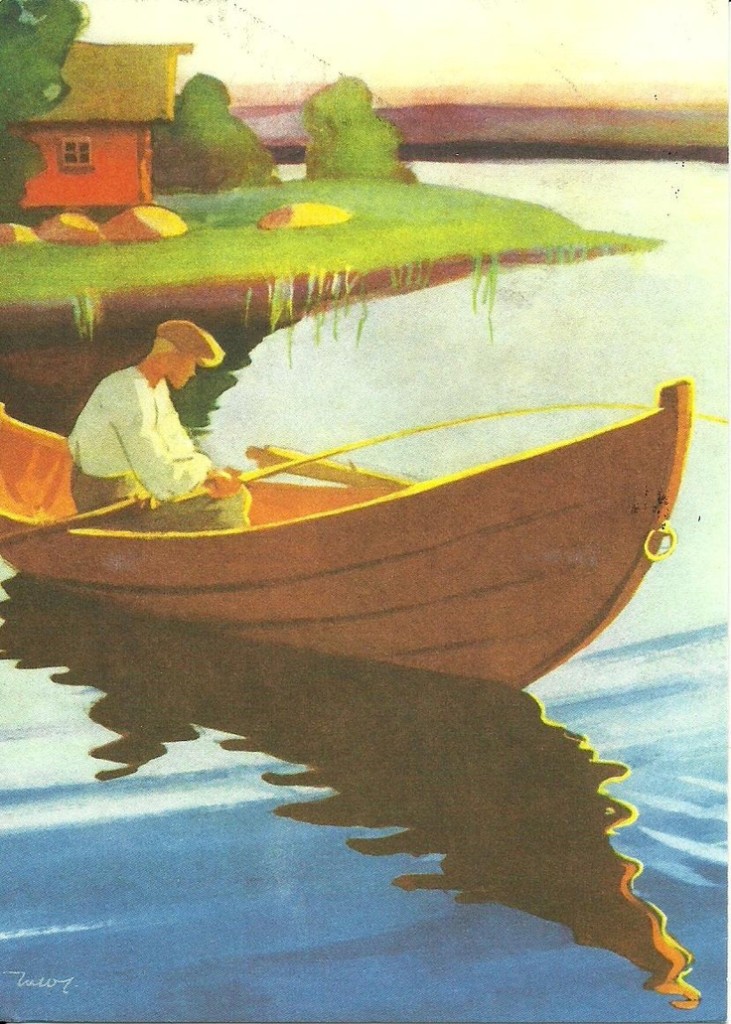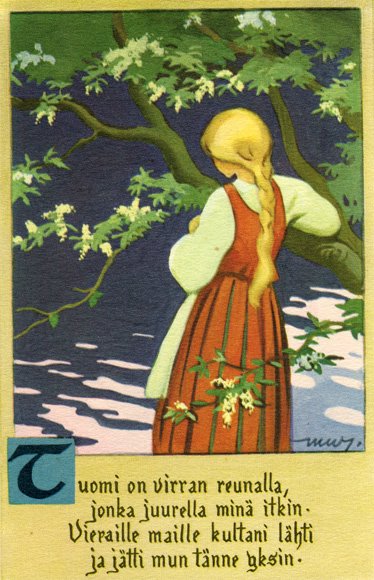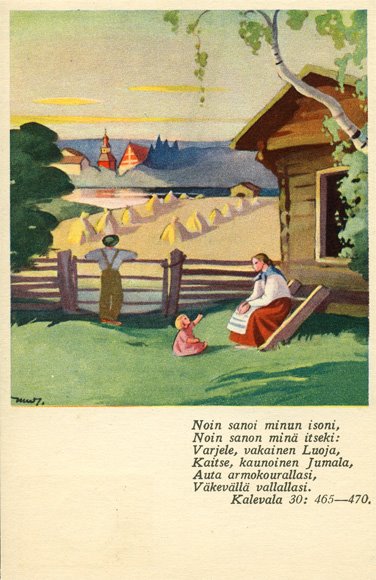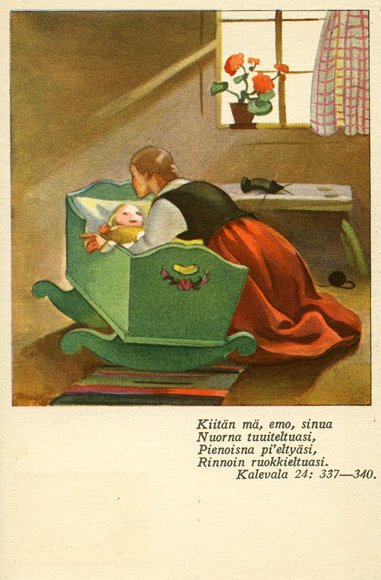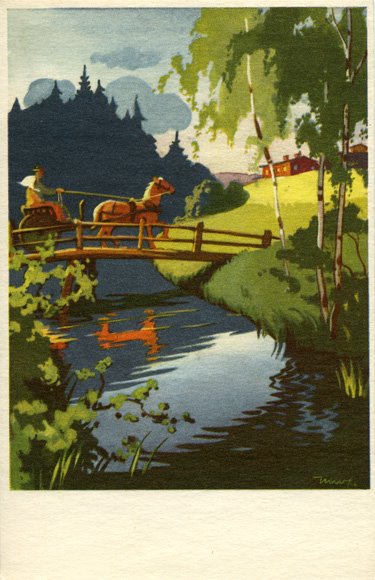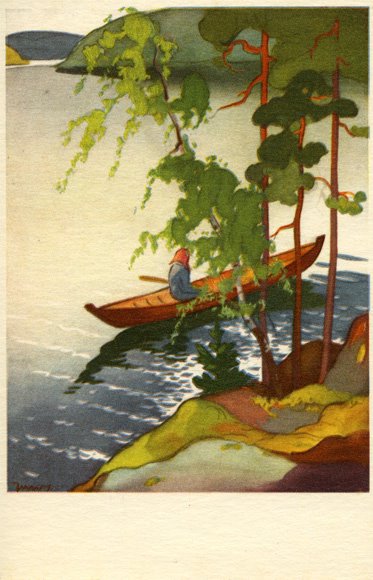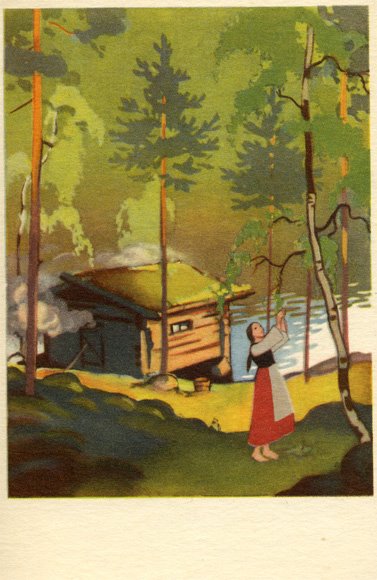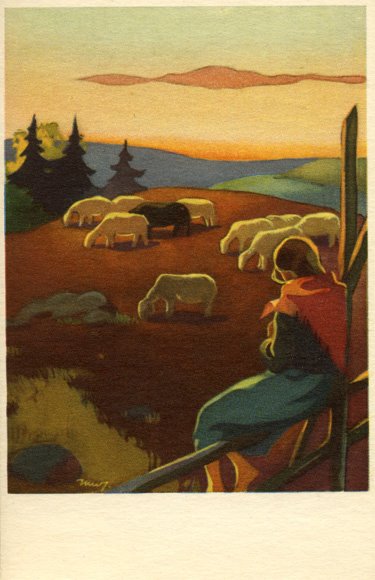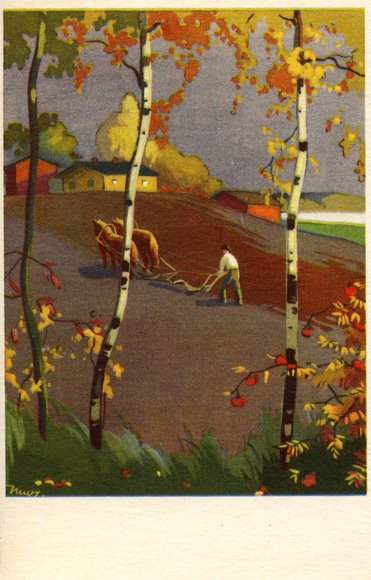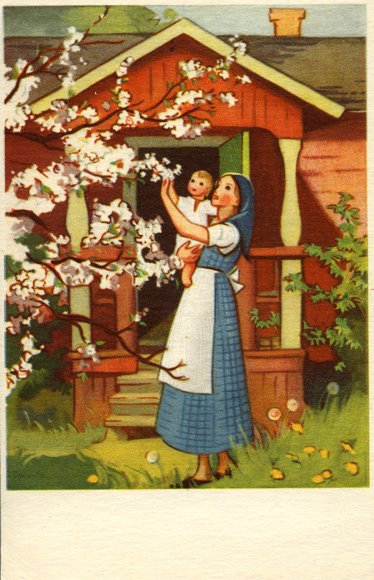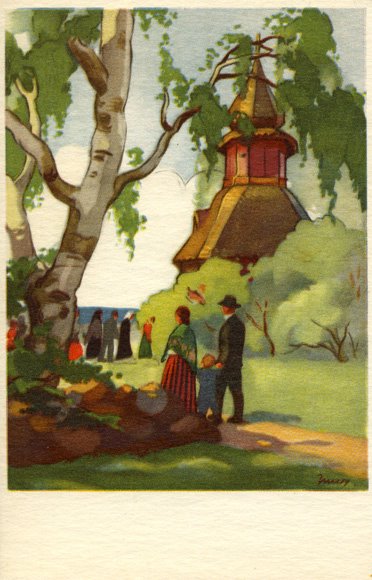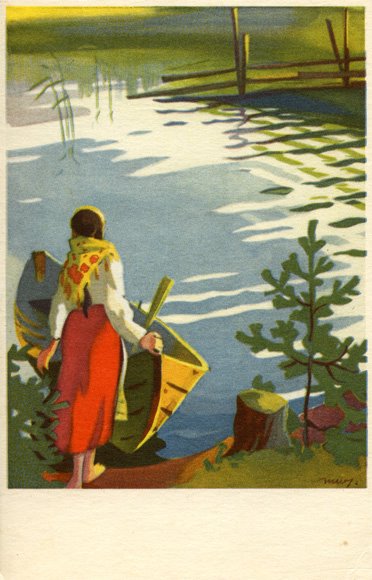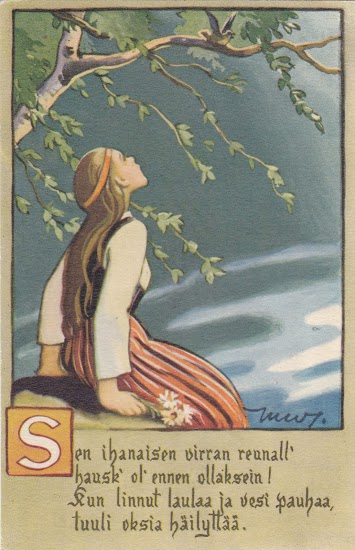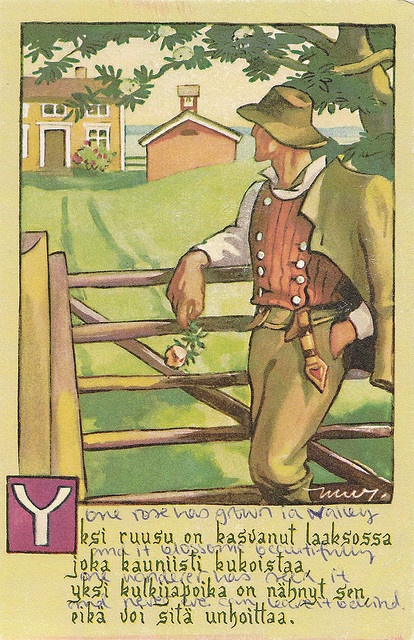 Copyright secured by Digiprove © 2014 Alternative Finland